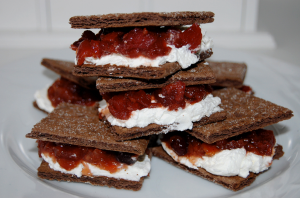 This recipe can be used for so many different occasions. Quick desserts or lunch box treats, after school snacks or fast hors d'oeuvres . Sweet Apple Bites derived from needing something new for dessert. Something that wasn't so desserty, but just sweet enough to fool the mind. Instead of eating the Sweet Apple Blush directly from the jar as usual, we looked at what we had to work with. The usual suspects lined our cabinets. Cinnamon Graham Crackers and Natural Peanut Butter; with a jar of Sweet Apple Blush, what could go wrong? Voila – Sweet Apple Bites. I hope you enjoy this tasty treat. It can be eaten directly after assembly, or frozen. Either way, sure bliss, and it takes less than 3 minutes to make. Even kids can't complain, they don't even need your help to make them! bet 365
You'll Need:
1 jar of Tortured Orchard Sweet Apple Blush
1 Box of Cinnamon Graham Crackers (shortbread cookies would be a delicious substitute)
Your choice of Peanut Butter (we used a natural brand) at room temperature so it's easily spread
off-set spatula/ butter knife/spoon/fingers…whatever works best for spreading
Napkins/Serving Plate (depending on how many you are making)
Plastic Wrap if you are going to be freezing them
* To begin, break the Graham cracker rectangles on the perforated lines, making graham squares.
* Using the butter knife spread a generous dollop of peanut butter, followed by a generous dollop of Tortured Orchard Sweet Apple Blush, then place on top another graham cracker. (try adding vanilla ice cream to this combo…yum yum.)
* If you are choosing to freeze these delicious bites, it's at this point you wrap them in plastic wrap and put them in the freezer until they are set. If you are choosing to eat them as is, they are good to go. مراهنات رياضية A variation on this recipe as mentioned before would be a shortbread cookie, or even another kind of graham cracker like chocolate. موقع العرب
** For a savory variation you could try it on a plain cracker, just for a snack.