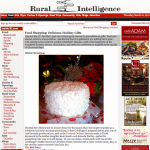 Writen by: Marilyn Bethany on 12/08/09
For Rural Intelligence
One size fits all.  But that's just one of many good reasons to give edibles as gifts. موقع المراهنات العالمي   Food gets shared, which is always festive.  And the fact that it is ephemeral is a nothing but a plus—who among us has room for another tchotchke? العاب النت الحقيقيه   Besides, a gift of food supports all the wonderful farmers, bakers, chocolatiers, and chefs who contribute so mightily to the quality of life around here. قمار (Including) […] locally-made goodies in jars, such as the Tortured Orchard Spreads made in North Egremont by the mother-daughter team Sandra and Amanda Walley—perfect for assembling into your own gift basket.