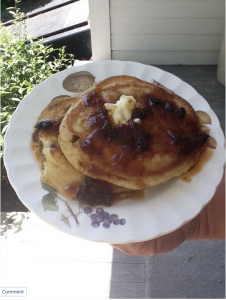 This recipe is great for a Summertime change to your ordinary pancakes.  If you are a crepe household instead of pancakes that works also. موقع الخيل
I am all about simple. I like quick, easy and delicious. كيف تفوز بالروليت if you're like me it's just what you're looking for, and  your family/guests will think your table is BETTER than going out to eat.
You'll Need:
– Tortured Orchards Lemon Ginger Twist – 1 jar
– Your  favorite go to box pancake mix and all that is needed for plain pancakes…so, eggs, oil, water….
This is where the recipe changes a little …instead of using water I used BUTTERMILK
– Blueberries (at least 1 pint)
– Cooking Spray/ Butter
– 10′ Non-stick pan, Cast iron pan, or flat griddle
– Bowl to mix
– Whisk
-Ladle
* Whisk pancake batter in your mixing bowl according to directions…replacing the water in the recipe with Buttermilk…don't be upset if you have some lumps in the batter, it's the nature of the beast…you will know when you have mixed appropriately…let the batter sit for a moment to thicken
* Turn the stove burner onto medium…and spray the pan with your Cooking spray
* Once your pan is Hot ladle the desired amount of batter into the pan to make your pancakes whatever size you want. Before you flip the pancakes add the desired amount of blueberries you're looking for per pancake. استراتيجية لعبة روليت
* When your pancakes are done top with butter and instead of syrup drizzle your warm buttery pancakes with Lemon Ginger Twist!