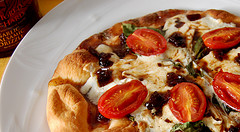 Our Garlic Balsamic Drizzle makes an excellent substitute for Tomato Sauce in the Tortured Orchard version of Pizza Margarita. لعبت بوكر This personal pizza is great with your favorite bottle of Wine, a good friend and a low key evening.
You'll Need:
Tortured Orchard's Garlic Balsamic Drizzle – 1 to 2 Tbsp
Naan Bread – 1 packet (2 usually come in a pack)
Fresh Mozzarella – 1 ball, sliced
Basil – Fresh about 5 -7 leaves, chiffonade
Grape Tomatoes – 4 halved
Oven/Toaster Oven
* Preheat Oven to 475 degrees. While your oven is reaching temp. اون لاين بلاك جاك assemble your pizza.
* Spread the Garlic Balsamic Drizzle evenly over the Naan.
*Evenly lay out the Mozzarella on top of the Garlic Balsamic
*On top of the cheese place the basil and tomato.
*Place the pie in the oven and back until the crust is golden brown and the cheese is melty. كازينو دوت كوم Add additional Garlic Balsamic Drizzle over the top once out of the oven and serve.