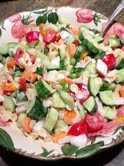 Tis the season for all this lush produce just begging to be devoured. In honor of all the deliciousness the Summer brings the Golden Sauce Summer Chopped Salad is born. بوكر حقيقي This Salad is great as a main dish or served as a side. It's a nice change to a typical mixed green salad and uses a lot of seasonal vegetables with different textures and vibrant colors. العب بلاك جاك  If the vegetarian version isn't enough try adding some grilled Chicken, either way we know you will be begging for more.
You'll Need:
Tortured Orchard Golden Sauce – 2 to 3 Tbsp
Baby Bow Tie Pasta – 1/2 Lb.
English Cucumber – 1 diced
Persian Cucumber – 3 to 4, diced
Radishes – 3 to 4, quartered
Fresh Peas – 1 Cup, shelled
Golden Cherry Tomatoes – 1/2 Cup
Cherry Tomatoes (Sweeties)- 1/2 Cup
Carrot – 1 diced
Light Mayonnaise – 1 heaping Tbsp
Cutting Board
Knife
A Small Pot
Stove
Salt and Pepper
Spoon
Mixing Bowl
Sieve/Strainer
* In a small pot add  your pasta covering with ample water, add salt and cook on a medium light until your pasta is cooked, about 15-18 minutes. While your pasta is cooking prep your vegetables.
*Once your pasta is cooked to tender Using the sieve/strainer drain your pasta and reserve.
*In your mixing bowl add your Mayonnaise and Golden Sauce. 1xbet casino Add all remaining ingredients Vegetables and Pasta and combine.
*Season with cracked Salt and Pepper to taste.