If you're a Tofu fan, this recipe couldn't be any easier. ربح الاموال This dish is light, and comforting, and great for any season.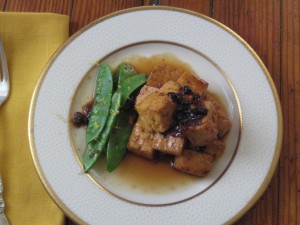 You'll Need:
– Tortured Orchards Lemon Ginger Twist, 1 jar
-Snow peas ( or in the summer real English or Snap peas)
– Tofu – 1 brick of extra firm
-pairing knife
-Saute pan
-Stove
* With your knife dice your tofu into pieces.
* In your saute pan add the Tofu and approx. 1/4 Cup Lemon Ginger Twist and heat
* Serve with Snow Peas.
*Variations*:
This dish would be excellent with any vegetable added, even nuts.
Some Ideas:
Red Pepper
Scallions
Brocoli
Cauliflower
Bamboo Shoots
Waterchestnuts
Almonds
Carrots
Spinach
Kale
Chard