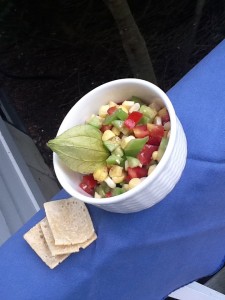 Not only is this Summer Salsa pretty, but refreshing. bet365 عربي It adds a new twist on some classic summer flavors. Golden Sauce Tomatillo Salsa is great with your favorite tortilla or rice chips or wonderful as a side dish*
You'll Need:
Tortured Orchards Golden Sauce- 1 to 2 Tbsp.
Tomatillos – 3 small, husks removed, washed (don't forget to do this as the husk leaves the outside a little sticky) small dice
Corn – 1 to 1.5 ears, taken off the cobb
Tomatoes – 3 Juliettes, small dice (you can use any summer varietal you have on hand)
Salt and fresh Ground Pepper
Spoon
Mixing Bowl
Cilantro sprigs (optional)
* Add all ingredients in a mixing bowl, season, and plate!