The picture to your right is the finished dish.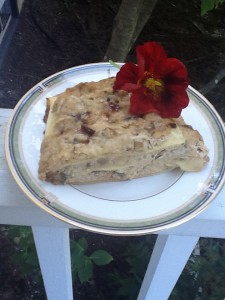 This is my most favorite thing to find in the refrigerator on a late night left overs raid.
Garlic Balsamic Drizzle Mushroom Lasagna is elegant in presentation and flavor, but hearty with the variety of mushrooms. This vegetarian pleaser will wow all your dinner guests, and nobody will miss any meat. (However, we have found that the filling tastes particularly delicious if you mix in some scrambled sweet Sausage…just sayin' YUM)
This dish has always gotten rave reviews in my house. It works as a make ahead meal and can be made in individual portions, huge trays, and freezes beautifully for that night where you just have to defrost!
Kids and Adults love it all the same…it may be intimidating at first, but it's as simple as assembly and after your first run through, it will become and instant classic.  If you have time to cook a little something you will NOT regret it!
You'll need:
*Tortured Orchard's Garlic Balsamic Drizzle  – 1 Tbsp + 1 tsp (4 tsps)
*Part Skim Ricotta – 3 1/4 Cups
(After tasting all different brands of
Ricottas, we LOVE our local Supermarket's all Natural Part Skim…it's become a stand by in the house. If you have a Price Chopper near you, or a market that has great house brands, don't be afraid to try their products. bet365.com Often times i've found I like them better.)
*Portabello Mushrooms – 2 caps
*Cremini Mushrooms –  half a box (usually 4 oz. or 5-7 Caps, stems can be included if they looks nice and not too woody)
*White Button Mushrooms – half a box (usually 4 oz. or 5-7 Caps, stems can be included if they looks nice and not too woody)
*Cracked Fresh Pepper and Salt
*Crushed Red Pepper Flakes (optional) – 1.5 tsp
*Spinach (optional) – 2 boxes defrosted and pressed to get rid of water
*Thyme (fresh) – 6 to 8 Sprigs
(if you're unfamiliar with using this herb, you want to hold a little spring in front of you and run your thumb and index finger down it, as if you're removing a corn husk…and all the little thyme should jump off their stem. It's the green part we want not the twiggy stem. It doesn't taste delicious.)
*Eggs – 1 jumbo or 2 small
*Mozzarella Cheese – 1 Cup
*Shredded Parmesan Cheese – 2.5 Cups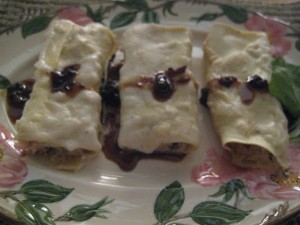 *Lasagna Noodles, Egg Roll or Wonton Wrappers – 1 box or package
(We used Lasagna sheets, but using the other two options you can make a manicotti type and roll them into cigars or even try your hand at ravioli)
*Damp Side Towel or Paper Towel
*Cutting Board
*Knife
*Foil
*Mixing Bowl
*Non Stick – Saute Pan
*Olive Oil/Butter (always unsalted unless specified)
*Pot for Boiling Water
*Lasagna Pan – 9 x 13 x 2 is usually standard but it depends how much you want to make…we had two comfortable layers in our dish this size.
Assembly:
* Place your pot filled with water on a Med/Hi light season with Salt and Cover. You are salting the water to taste like salt water. That way your pasta will be have flavor. While your pasta water comes to a boil, Onto the Mushrooms.
*Turn on your oven to 350 degrees
*Next, on your cutting board inspect your mushrooms for cleaning, With a damp towel handy to wipe the caps clean of dirt. Once your Mushroom caps are cleaned, de-stem if need be and chop into a rough small/med dice, and place in a dish to reserve.
*Place your saute Pan on a Low/Medium Light  add about a few teaspoons of olive oil and a bump of butter (thumbnail sized) and allow to heat, while you shuck your Thyme, placing it in a little dish to add in later. Once you're done shucking ,the pan should be at the appropriate temperature. العاب ماكينات
*DO NOT OVER CROWD YOUR MUSHROOM PAN*
This is really important to remember. You won't get a great caramelization on your mushrooms , and they will end up watery. Now, it's true this is going into a filling and you won't completely see them, but it's about flavor here. If you have TOO MANY mushrooms for one Pan load, saute in batches!
When the oil moves around the pan quickly and the butter is melted and slightly foaming your fat should be ready to saute. If you feel like you're shucking the Thyme slowly, and you're not done with the pan is ready, DON'T FRET, just add the mushrooms to the pan and add the Thyme you do have and continue to shuck what's left directly over the saute pan. موقع المراهنات العالمي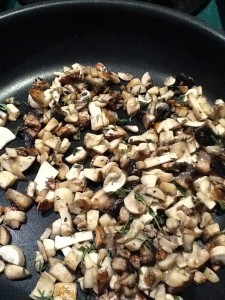 They should make a nice hissing sound when they hit the fry pan. Keep your eye on them as they cook, and you can assemble the rest of the filling.
* At this point your water should be at a boil, follow the directions on your Lasagna Box and cook accordingly.
* In your mixing bowl combine the Ricotta, Tortured Orchard's GBD, Mozzarella, Parmesan, Salt and Pepper , Egg, and cooled sauteed Mushrooms, and reserve.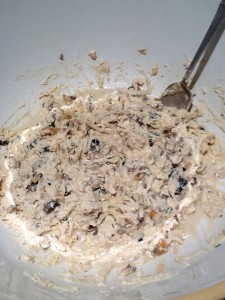 * While your Noodles are cooking it's time to prep your Lasagna dish. With a little bit of olive oil or ample non cook spray coat the sides and bottom of your dish.
*Check your pasta and once it cooked it's time to assemble.
* In the bottom of your Lasagna dish place a sheet of pasta down. On top of the pasta, spread the Garlic Balsamic Drizzle Mushroom Mixture then place another sheet of pasta over that, alternating pasta sheets and filling until you're all done. Make sure you assess how much filling you have for the size pan you're using so there is enough for the top layer.
* Place your assembled Lasagna in the oven for 25 minutes. Remove from the oven and cover with foil. Place back in the oven for about 20 more minutes until everything looks bubbly and cooked through.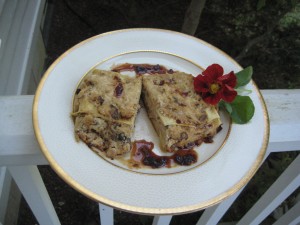 Drizzle with a bit of Garlic Balsamic on the plate and over the top of the hot pasta and watch as the heavens part.