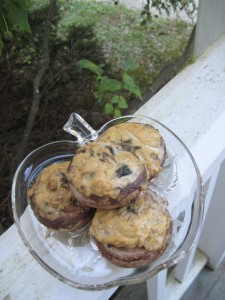 Stuffed Mushrooms are often forgotten about.
I've given this a good amount of thought, and reached the conclusion that you've either had a bad experience with one before, like bland, poorly seasoned mystery stuffed  caps. Or, you just don't understand how easy it is to prepare these.
Our Garlic Balsamic Stuffed Mushrooms, are filling but not heavy.
Great for entertaining or a main course.
You'll need:
* Tortured Orchard's Garlic Balsamic Drizzle – 1Tablespoon + 1 tsp.
*White Button Mushrooms – 1. لعبة بينجو 25 lbs. ( We used 2, 10oz. boxes)
* Part Skim Ricotta – 3 1/4 Cups
(After tasting all different brands of Ricottas, we LOVE our local Supermarket's all Natural Part Skim…it's become a stand by in the house. If you have a Price Chopper near you, or a market that has great house brands, don't be afraid to try their products. Often times i've found I like them better.)
*Cracked Fresh Pepper and Salt
*Crushed Red Pepper Flakes (optional) – 1.5 tsp
*Spinach (optional) – 1 boxes defrosted and pressed to get rid of water
*Sweet Sausage/Bacon or Pancetta (optional) – 1/2 lbs.
*Thyme (fresh) – 6 Sprigs
(if you're unfamiliar with using this herb, you want to hold a little spring in front of you and run your thumb and index finger down it, as if you're removing a corn husk…and all the little thyme should jump off their stem. It's the green part we want not the twiggy stem. It doesn't taste delicious. مراهنات )
*Bread Crumbs/Panko (optional) – 1/4 – 1/2 Cup
*Eggs – 1 jumbo or 2 small
*Mozzarella Cheese – 1 Cup
*Shredded Parmesan Cheese – 2.5 Cups
* Canola and Olive Oil for cooking
* Large Saute Pan/ Fry Pan
*Cutting Board
*Knife
*Mixing Bowl
*Fork/ Tongs/Wooden Spoon
*Damp Side Towel/ Paper Towel
*Sheet Tray/Cookie Sheet
*Parchment
Assembly:
On your Cutting board with your dampened towel, open 1 box of mushrooms and wipe the mushrooms caps free from any dirt that may be on them. De-stem the mushrooms, reserving the stems in one pile and placing the caps on your parchment lined sheet tray. If there are some small caps, add those to the stem pile and pick a few bigger caps from the next box for stuffing.
With the second box, open , wipe clean, and de-stem most of the caps. the smaller ones it's okay to leave whole. Small /Medium dice the mushrooms and remaining caps.
Turn your saute pan onto a Low/Med light and add about a Tablespoon of Oil. كيف تربح المال من الإنترنت When the Oil is hot, add your Sausage. If you're unsure that your pan is indeed hot, When you gently shake the pan the Oil should move easily.
Using your fork, break the Sausage up a little as it cooks. You don't want huge chunks of meat because it makes it harder to stuff the caps.
While your awaiting your Sausage to fully cook, begin to shuck your Thyme.
When the meat is no longer raw take it out of the pan and put it in your mixing bowl, placing the pan back on the burner to saute your mushrooms.
Turn your oven onto 350 degrees.
Turn your pan on to a Med. light and put a little Olive Oil down in the pan. When the pan is hot add the mushrooms and Thyme. Give them a minute to cook but make sure you season with Salt and Pepper.
* DO NOT OVER CROWD YOUR MUSHROOM PAN.
If it looks like you have too many mushrooms to fit in the pan you're using it's okay to do it in batches. If there are too many in the pan they run the risk of steaming themselves a little and the desired caramelization won't occur on the mushrooms. Yes the browning looks pretty but it's not about looks this time. It's about developing the flavor.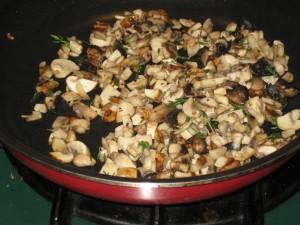 When they're all cooked, add the mushrooms to your mixing bowl with the Sausage. Placing the pan back on the stove on a Low light add about a sip of water ( an oz.) or a little red wine (if you've got one open) to the pan to deglaze. Using your wooden spoon lightly scrape the bottom of the saute pan. This will loosen all the little brown bits of goodness that have stuck to the bottom. That's fond. This means flavor. If you get a little liquid with some of those bits add it to your mixing bowl.
When the Mushrooms and Sausage are cool enough add your remaining ingredients.
Once all combined, stuff your caps. It should go very quickly as you've created an assembly line by laying out your caps on the Sheet Tray. Then place the mushrooms in your oven.
They usually take between 25-35 minutes. I always have to do a taste test. I like my hot food, piping hot. One lone mushroom will always be sacrificed to the taste testers club. As you cut into them the mushroom should be sturdy, but cooked. The cheeses blend really nicely with the delicate sweetness the Garlic Balsamic Drizzle imparts.  Even people who claim to not like Garlic will devour these.
Watch out because these are little mouth burners. So serve them after you've allowed them to rest a minute on your serving plate.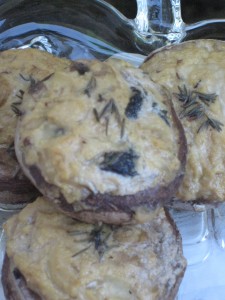 Serving Suggestions:
This dish can easily be made vegetarian by omitting the sausage step.
If you have a favorite Marinara Sauce or Gravy you can always lay that down on the plate and serve the mushrooms on top of that.
It's a complete meal with a great salad, or seasonal roasted vegetables like Squash and Potatoes or even roasted Asparagus and Eggplant.
If you want to store it in the fridge, you'd better use the best from DCW casing.