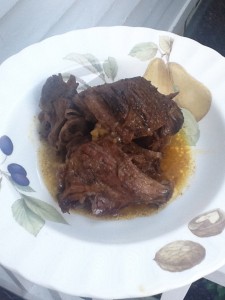 This dish couldn't be easier or more delicious. ويليام هيل The VERSATILITY of it will have you at hello. Elegant enough for a special evening in, fast enough for a weeknight meal and versatile enough to use the leftovers for delicious breakfast hash or even sliders for your tailgates!
It's virtually mindless and the slow cooker/oven will do all the work.
You'll Need:
* Tortured Orchard's Golden Sauce – 2 bottles
* Chuck Roast – 1, 2.5  to 3 lbs. piece (can easily be replaced with Pork Butt, if you prefer)
* Crock Pot
* Red Bliss Potatoes (optional) – 3 quartered (6ths if bigger potatoes)
* Onion (optional) –  2 small quartered
– Cut the meat up enough so that it fits in your cooking vessel. If you don't have a crock pot a dutch oven will do the job. لعبة روليت مجاني If using the dutch oven you most likely will not have to tamper with the meat.
– Pour the Golden Sauce over the meat, put the lid on the slow cooker turn it onto high and walk away for about 4 hours. At this time, your braised beef should be fork tender and melt in your mouth.
-Make sure you skim any fat that has risen to the top of your pot before you serve your meal. العاب على الهاتف المحمول
– If you're using your oven, turn it onto 300 degrees and cover with a lid or tin foil.
*Serving Suggestions*
Add Carrots, Potatoes, Onions and Peas for a nice Stew.
Try your hand at making Pop-overs. They are E-Z. Even for a non-cook, cook. Not only will they compliment this dish beautifully but if you're serving this for roommates, or company they will be very impressed. Braised Beef and Pop-overs? How lucky are they? If you don't like that idea, slice up a nice crusty baguette and round out the meal with a salad. Pat yourself on the back and enjoy.