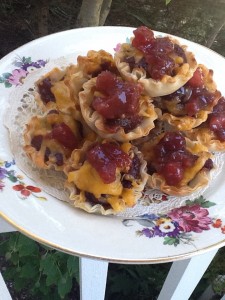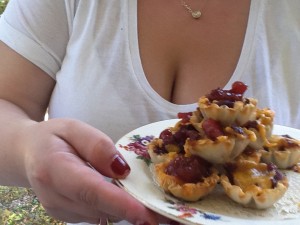 Do yourself a favor, and try this sweet and savory treat. This recipe can be used for Thanksgiving appetizers, Cocktail Parties, Fast desserts, even portable for picnics.
Seriously Endless variations, and so easy a drunken monkey could handle the amount of work involved. There are a million variations to this recipe. Three ingredients and edible flatware! روليت اون لاين Willy Wonka did it best with the candy plate and teacup but come on, the recipe has edible bowls! How can you not love it? If you want some real beautiful flatware then look at the 18/10 flatware set clearance.
You'll need:
Tortured Orchard's Sweet Apple Blush – 1 jar
Sharp Cheddar Cheese – 3-5oz. shredded (figure a scant tsp per cup)
Phyllo Cups – 1 package (15 come per sheet, these are usually found in the freezer section of the market near the Puff Pastry and Phyllo dough.)
Sheet Tray (cookie Sheet)
Parchment Paper
Spoon.
* Heat your oven to 350 degrees. تعلم القمار
* On your cookie sheet place an appropriately sized sheet of Parchment paper.
* Lay out your cups, place a spoonful of Sweet Apple Blush in each one, Then top with Cheddar Cheese, and Bake. They take about 10-12 minutes.
*Once the cheese is mostly melted take them out of the oven.
* Go back around the tray carefully and place a little but more of the SAB on each cup, turn the oven to off, but place the tray back in there, to warm of the new SAB just added.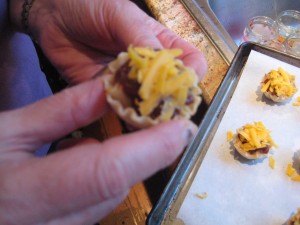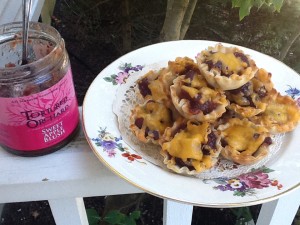 * You don't only have to use Cheddar. Great variations of this dish can be done with other hard, bloomy rind, or semi soft cheese.Try: Blue Cheese, Chevre, Cream Cheese or Brie. رهانات المباريات
*Try these cups with choc chips, Sweet Apple Blush and peanut or almond butter instead of cheese. Make them plain and serve with Ice Cream. Your choice!