These sliders were born after we had left overs from Our Golden Sauce Braised Beef. Same recipe, except smaller portions on slider rolls. Should you prefer pulled pork, a Pork Butt will do the same thing.
Even though the Golden Sauce as a dressing imparts a warmth on your palate, cooked it offers the sweeter side of mustard and peppers. Kids and Adults LOVE these all the same, and they are easy on the Cook!
You'll Need:
* Tortured Orchard's Golden Sauce – 1.5-2 bottles
* Chuck Roast – 1, 2.5  to 3 lbs. piece (can easily be replaced with Pork Butt, if you prefer)
* Crock Pot
* Slider buns – Sometimes they are called "Dinner Rolls."  Any soft small bun will do, so if you're local bakery makes something similar and you like those, grab those. لعبة بينجو اون لاين A good old fashioned white bread will even do the trick.
– Cut the meat up enough so that it fits in your cooking vessel. Bigger pieces are fine. If you don't have a crock pot a dutch oven will do the job. If using the dutch oven you most likely will not have to tamper with the meat. العاب الكازينو مجانا
– Pour the Golden Sauce over the meat, put the lid on the slow cooker turn it onto high and walk away for about 4 hours. At this time, your braised beef should be fork tender and melt in your mouth.
-Make sure you skim any fat that has risen to the top of your pot before you serve. This process is often easier when everything has cooled the fat is very visible and easily removed.
– If you're using your oven, turn it onto 300 degrees and cover with a lid or tin foil. ربح مجاني
*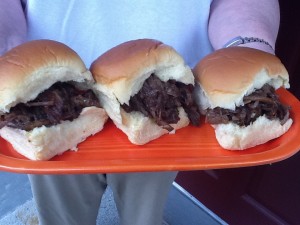 Assemble, Plate and eat.
*Serving Suggestions*
To round out the meal nice and fast side dishes are Salad, Coleslaw or Potato Salad. It doesn't matter which style you choose. But when making this recipe for a crowd sometimes it's just easiest to pick up something from your Grocery Deli Counter if you don't have time to make it yourself!